current work:
watermap
physical live weather visualization
×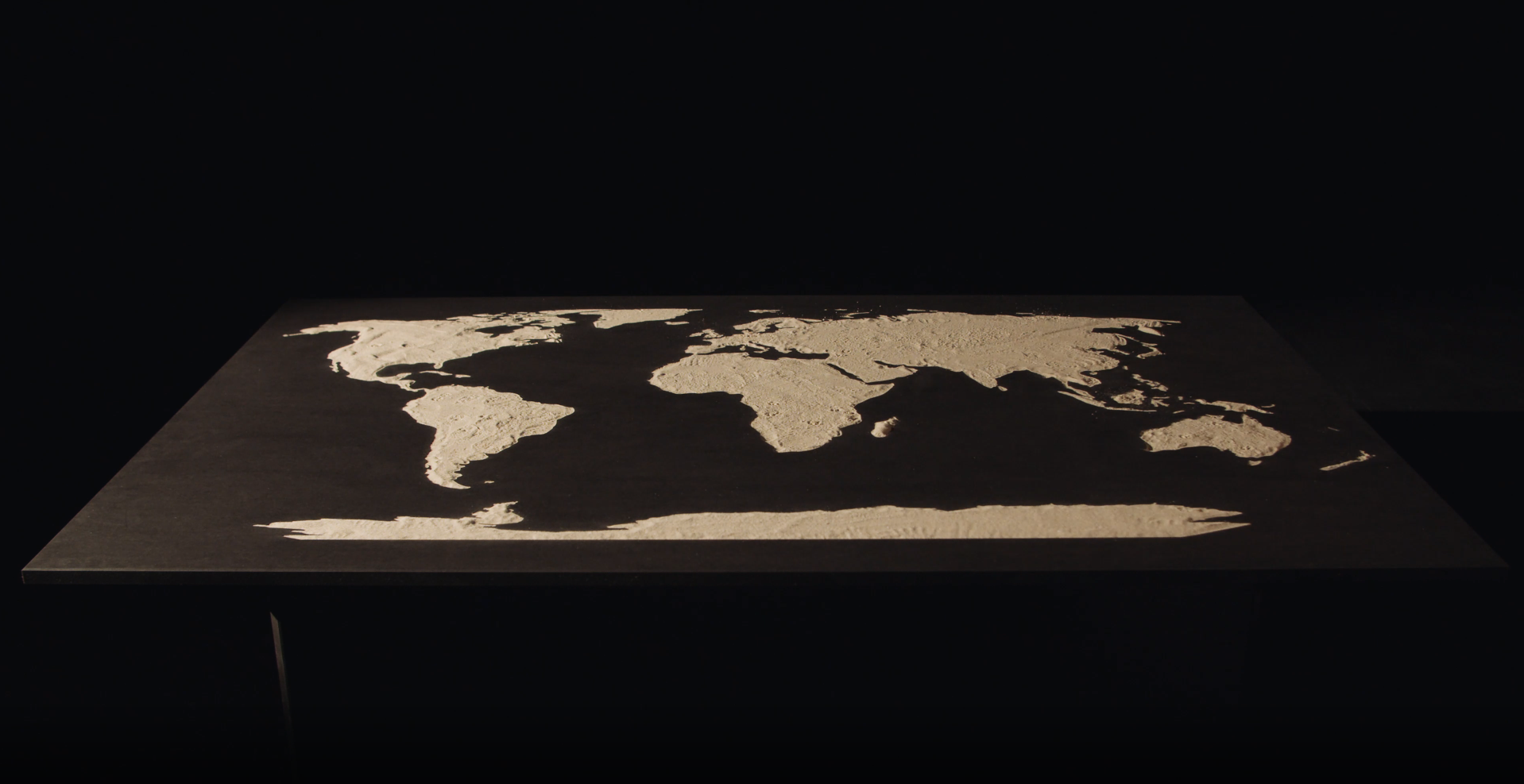 watermap @ Arselectronica Center
Credit: Ars Electronica / Martin Hieslmair
watermap
physical live weather visualization
Water is life.
Ohne Wasser existiert nichts Organisches. Diese Wasserinstallation visualisiert - symbolisch - wie Regen die ganze Welt zum Leben erweckt. In einer sehr greifbaren Art und Weise, Daten zu präsentieren und zu visualisieren, wird Regen durch echte Wassertropfen dargestellt. Die Installation zeigt ein schwarzes, hölzernes Podest mit einer vertieften Weltkarte, gefüllt mit Sand. Technisch erfolgt die Realisierung durch einen Minicomputer, welcher live Wetterdaten auswertet und einen Wassertank in einem X-Y-System über der Weltkarte positioniert. An Stellen mit Niederschlag fallen Wassertropfen auf den Sand.
Without water, nothing organic exists. This water installation visualizes - symbolically - how rain brings the whole world to life. In a very tangible way of presenting and visualizing data, rain is represented by real drops of water. The installation features a black, wooden pedestal with a recessed world map filled with sand. Technically, the realization is done by a mini-computer, which evaluates live weather data and positions a water tank in an X-Y system above the world map. At places with precipitation, water drops fall onto the sand.
Projects
In the past years I was able to realize some works in the context of my studies and in the environment of the Linz Hackerspace dev/lol. Mainly interactive projects with electronic components. Thereby I deepened my knowledge in dealing with sensors and microcontrollers.
OSC device

The OSC Interface Device is the core element for the direct translation of performance, dance and gestures into digital content. The device was developed as part of the class "Object-oriented programming in Deep Space" by Univ.-Prof. Dr. Gerhard Funk and was therefore specially developed for the Deep Space of the Ars Electronica Center. Its purpose is the versatile use of the device for visually supported live dance performances and visual media content.

IoTlights

With the help of a slider on the homepage www.daniel-fischer.at the color value of an interactive graphic can be changed. This color value is sent to an IoT server and all connected devices (IoT lights) light up in this color. The synchronization of the color properties, changes the essence of the lights.

Effect Pad Cap 1.0

The basic idea behind this project is to realize the user guidance by hand gestures or proximity as a MIDI controller to make a natural sensor control usable for music production. In addition to the pleasant surface of the casing, the individual control surfaces are already designed in such a way, that a light display in different colours gives feedback to the musician on which setting was made by his or her gestures.
About
Daniel Fischer
1978 in Tirol geboren, aufgewachsen im Burgenland, lebt nun in Linz. Nach einer abgeschlossenen technischen Ausbildung im Bereich Elektrotechnik/Informationstechnologie, fand er seine Liebe zur Kunst und studiert nun an der Kunstuniversität Linz. Seine Arbeiten haben den Schwerpunkt Mensch / Technik / Wahrnehmung.
Born in Tyrol in 1978, grew up in Burgenland, now lives in Linz. After completing a technical education in the field of electrical engineering / information technology, he found his love for art and is now studying at the Art University of Linz. His works have a focus on humanity / technology / perception.